May the 4th be with you! To celebrate the glorious holiday that is Star Wars Day, we've rounded up five books that every fan should read. From a new Han and Lando novel to a stormtrooper encyclopedia, these books will whisk you to a galaxy far, far away.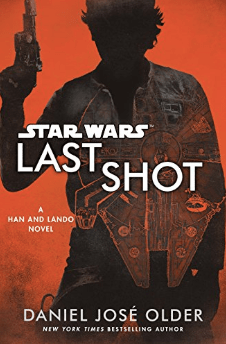 1. Last Shot: A Han and Lando Novel by Daniel José Older
Why You'll Love It: If you're thrilled for the movie premiere of Solo, then this is the novel for you. Daniel José Older weaves an original tale inspired by the movie, reuniting Han and Lando on a thrilling adventure.
Description: THEN… It's one of the galaxy's most dangerous secrets: a mysterious transmitter with unknown power and a reward for its discovery that most could only dream of claiming. But those who fly the Millennium Falcon throughout its infamous history aren't your average scoundrels. Not once, but twice, the crew of the Falcon tries to claim the elusive prize—first, Lando Calrissian and the droid L3-37 at the dawn of an ambitious career, and later, a young and hungry Han Solo with the help of his copilot, Chewbacca. But the device's creator, the volatile criminal Fyzen Gor, isn't interested in sharing. And Gor knows how to hold a grudge.
NOW… It's been 10 years since the rebel hero Han Solo last encountered Fyzen Gor. After mounting a successful rebellion against the Empire and starting a family with an Alderaanian princess, Han hasn't given much thought to the mad inventor. But when Lando turns up at Han's doorstep in the middle of the night, it's Fyzen's assassins that he's running from. And without Han's help, Lando—and all life on Cloud City—will be annihilated.
With the assistance of a young hotshot pilot, an Ewok slicer prodigy, the woman who might be the love of Lando's life, and Han's best and furriest friend, the two most notorious scoundrels in the New Republic are working together once more. They'll have to journey across the stars—and into the past—before Gor uses the device's power to reshape the galaxy.
You can purchase it from multiple sellers here.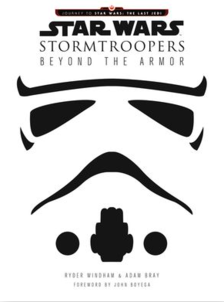 2. Star Wars Stormtroopers: Beyond the Armor by Ryder Windham and Adam Bray
Why You'll Love It: This beautiful tome is the ultimate guide on all things stormtrooper-related; plus, it includes a forward from John Boyega and removable artwork.
Description: Star Wars: A New Hope, the very first installment in the beloved science-fiction series, introduced the Imperial stormtroopers—the army of the fearsome and tyrannical Galactic Empire. Charged with establishing Imperial authority and suppressing resistance, these terrifying, faceless, well-disciplined soldiers in white have become a universal symbol of oppression.
Star Wars Stormtroopers explores these striking warriors and their evolution in depth for the first time. Ryder Windham and Adam Bray trace the roots of their creation and design, exploring how these elite troops from a galaxy far, far away have been depicted in movies, cartoons, comics, novels and merchandizing. Filled with photographs, illustrations, story boards and other artwork, this lavish officially licensed book comes complete with removable features, including posters, stickers, replica memorabilia and more, making it an essential keepsake for every Star Wars fan.
You can purchase it from multiple sellers here.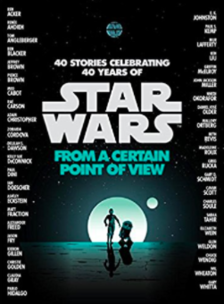 3. Star Wars: From a Certain Point of View edited by Elizabeth Schaefer
Why You'll Love It: From Jawas to sandtroopers to droids, supporting characters get a chance to shine in this Star Wars short story collection. So if you've ever wondered why the trash compactor monster attacked Luke or how Admiral Motti reacted to being Force-choked by Darth Vader, this book has the answers. (Check out our list of the top 10 stories in the book.)
Description: On May 25, 1977, the world was introduced to Han Solo, Luke Skywalker, Princess Leia, C-3PO, R2-D2, Chewbacca, Obi-Wan Kenobi, Darth Vader and a galaxy full of possibilities. In honor of the 40th anniversary, more than 40 contributors lend their vision to this retelling of Star Wars. Each of the 40 short stories reimagines a moment from the original film, but through the eyes of a supporting character. From a Certain Point of View features contributions by bestselling authors, trendsetting artists, and treasured voices from the literary history of Star Wars.
And all participating authors have generously forgone any compensation for their stories. Instead, their proceeds will be donated to First Book—a leading nonprofit that provides new books, learning materials and other essentials to educators and organizations serving children in need.
You can purchase it from multiple sellers here.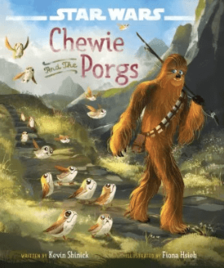 4. Star Wars: Chewie and the Porgs by Kevin Shinick, illustrations by Fiona Hsieh
Why You'll Love It: Yes, this is a children's book. But its adorable story and gorgeous illustrations make it a must-read for fans of all ages.
Description: From Emmy award-winning writer Kevin Shinick comes a lovable tale of Chewbacca the Wookiee and the pesky porgs of Ahch-To Island.
You can purchase it from multiple sellers here.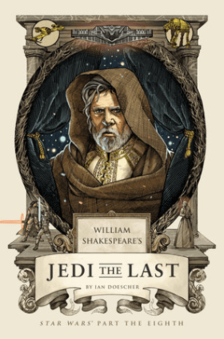 5. William Shakespeare's Jedi the Last by Ian Doescher, illustrations by Nicolas Delort
Why You'll Love It: Modern bard Ian Doescher returns to a galaxy far, far away with the eighth installment in his brilliant William Shakespeare's Star Wars series. The Last Jedi film reimagined as an Elizabethan play—in iambic pentameter, no less? Count us in.
Description: The Star Wars saga continues, with the Bard of Avon providing some of the biggest shocks yet! Alack, the valiant Resistance must flee from the scoundrels of the First Order, and it falls to Rey, Finn, Poe, Rose and BB-8 to take up arms against sea of troubles. Can they bring Snoke's schemes to woe, destruction, ruin and decay? Will Luke Skywalker take the stage once more, and aid Princess Leia in the winter of her discontent?
Authentic meter, stage directions, reimagined movie scenes and hidden Easter eggs throughout will entertain fans of Star Wars and Shakespeare alike. Every scene and character from the film appears in the play, along with 20 woodcut-style illustrations that depict an Elizabethan version of the Star Wars universe.
You can pre-order the book, which releases on July 10th, here.
Source: https://www.pastemagazine.com/articles/2018/05/five-books-every-star-wars-fan-should-read.html